The Water Lilies by Claude Monet
Sections
Titre
History of the Water Lilies cycle
Texte
Offered to the French State by the painter Claude Monet on the day that followed the Armistice of November 11, 1918 as a symbol for peace, the Water Lilies are installed according to plan at the Orangerie Museum in 1927, a few months after his death. This unique set, a true « Sixtine Chapel of Impressionism » in the words of André Masson in 1952, testifies to Monet's later work. It was designed as a real environment and crowns the Water Lilies cycle begun nearly thirty years before. The set is one of the largest monumental achievements of early twentieth-century painting. 
Read more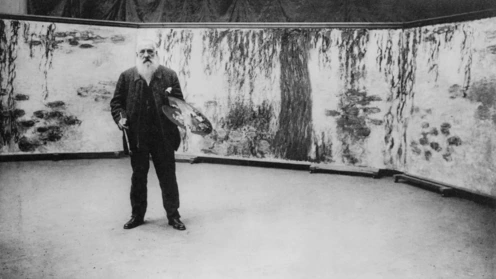 Titre
Claude Monet, the impressionist of the landscape
Texte
Claude Monet was born in Paris and grew up in Normandy in the town of Le Havre. He was introduced to the representation of nature in painting through contact with the painter Eugène Boudin (1824-1898). He arrived in Paris in 1859 and entered the studio of Charles Gleyre (1806-1874), where he made the acquaintance of the painters Pierre-Auguste Renoir (1841-1919), Alfred Sisley (1839-1899) and Frédéric Bazille (1841-1870). Edouard Manet influenced him in the early 1860s, while he was developing more personal landscapes.
After taking refuge in London during the Franco-Prussian war of 1870, Monet settled in Argenteuil on his return to France. Claude Monet is known as one of the most famous painters of the Impressionist movement, which takes its name from one of his compositions: Impression, soleil levant [Impression, Sunrise], dated 1872 (Musée Marmottan, Paris). He took part in most of the Impressionist exhibitions from 1874.
In 1883, he moved to his property in Giverny, in Normandy. In this period he developed the representation of certain subjects in the form of series: Meules de foin [Haystacks], Peupliers [Poplars], Cathédrale de Rouen [Rouen Cathedral], etc.
From the end of the 1890s until his death in 1926, the painter primarily devoted himself to the Nymphéas [Water Lilies] cycle, of which the Musée de l'Orangerie possesses a unique set. Indeed, the artist conceived several works specifically for the building, and gave his first two large panels to the Nation as a symbol of peace, the day after the armistice, on November 12, 1918. He also conceived a unique space, composed of two elliptical rooms within the museum, giving the viewer the « illusion of an endless whole, of a wave without horizon and without shore » in his own words, making the Nymphéas of the Musée de l'Orangerie an achievement by the artist that is unparalleled throughout the world.
The eight compositions of the Water Lilies