Contemporary Counterpoint
Hermann Nitsch. Tribute
From October 11th, 2023 to February 12th, 2024

Regarded as a major artist in the Viennese Actionism movement, which he co-founded, Hermann Nitsch was born in Vienna in 1938 and died in April 2022 in Mistelbach, where he lived and worked. Internationally acknowledged as the master of Austrian performance art, the artist produced a powerfully expressive body of work, borrowing from religious dramaturgy to develop a total art that culminated each year from the 1950s onwards in his "Orgien Mysterien Theater", when he invited friends and the public to six days of uninterrupted festivities and performances.
During the last years of his career, Nitsch developed an extraordinarily vibrant, ever more colorful form of painting, always closely connected with his performances and the places in which it was practiced. He was fascinated by Monet's Nymphéas (Water Lilies), to which he paid tribute at the Musée de l'Orangerie whenever he visited Paris, and shortly before his death he was invited to dialogue with this masterpiece of impressionism, emphasizing the closeness he saw in it to the issues addressed in his own practice: "in my performances, my expressive and religious painting becomes a completed drama, an analytic dramaturgy. What remains to be seen is a frenzy of colors and shapes that detach themselves well beyond the content, like the ecstasies of color in Monet's Nymphéas" (2022, in an interview with Sarah Imatte, Heritage Curator at the Musée de l'Orangerie).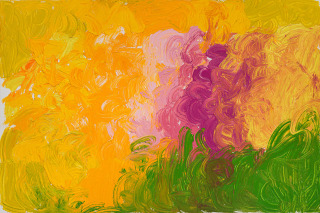 Although Nitsch did not have the time to bring his project for the Musée de l'Orangerie to fruition, the museum wanted to pay tribute to him, a year after his death, in the form of this counterpoint, which brings together a selection of paintings and graphic works created shortly before his death, chosen directly in the artist's studio. They will be on exhibition in the "Pronaos" area leading to the Nymphéas and in the contemporary room on the Museum's GF-2.
Sunday

9.00am - 6.00pm

Monday

9.00am - 6.00pm

Tuesday

Closed

Wednesday

9.00am - 6.00pm

Thursday

9.00am - 6.00pm

Friday

9.00am - 6.00pm

Saturday

9.00am - 6.00pm
Tarifs
Time slot full rate

€12.50
Time slot reduced rate

€10
- de 18 ans, - de 26 ans résidents EEU

Free