Matisse. Cahiers d'art, the pivotal 1930's
From March 01st to May 29th, 2023 -

There has been no lack of exhibitions on Matisse. Among those that have addressed the various periods that marked his career, very few have focused specifically on the 1930s. Matisse. Cahiers d'art - Le tournant des années 1930 (The Pivotal 1930s) is devoted exclusively to this period.
In 1930, Matisse left France and traveled to Tahiti, so deliberately taking a break from creation, and reaching a turning point in his career. The "Matisse. Cahiers d'art, le tournant des années 1930" exhibition revisits this decisive decade. It is through the prism of Cahiers d'art, the great avant-garde magazine created by Christian Zervos in 1926, that the exhibition will be presenting Matisse's work in the 1930s. The mouthpiece for international modernism and the aesthetic trends of its day, the magazine reported on the artist's production throughout the interwar period.
The exhibition brings together a selection of works from the decade with a view to understanding their major concerns. Largely excluded from the art scene during the 1920s, the painter's work once again became a subject for the era's debates on ideas and reflections, due to regular publications in Cahiers d'Art, highlighting his pre-1916 paintings – the most radical among them in particular – and reporting on his production underway. Articles and reproductions of Matisse's works helped relaunch his competition with Picasso. In successive issues of the magazine, Matisse featured alongside the artists of his time: Georges Braque, Juan Miro, Fernand Léger, Wassily Kandinsky, Mondrian, Le Corbusier and Marcel Duchamp.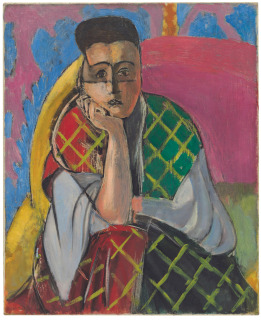 A number of outstanding works rarely exhibited in France have been brought together for this exhibition, including Large Reclining Nude from Baltimore, The Song from Houston and the 1938 Romanian Blouses series conserved in various American museums. The density and complexity of the decade in question are suggested by sculptures, objects from Matisse's and others' collections, drawings, engravings and paintings, along with recent prints of photographs of states of progress, archives, excerpts from films and issues of Cahiers d'art.
This project enjoyed the crucial support of Cahiers d'Art and the Matisse Archives.
This exhibition is organized with the Philadelphia Museum of Art and the Musée Matisse in Nice.
Events, tours and articles
Around the exhibition « Matisse. Cahiers d'art. The Pivotal 1930s »
Find out more
For further
Detailed presentation of the exhibition
Read