Giorgio de Chirico. Metaphysical painting
From September 16th to December 14th, 2020 -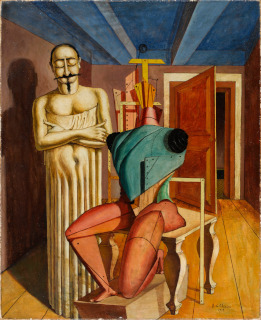 The exhibition Giorgio de Chirico. Metaphysical painting retraces the career and the artistic and philosophic influences of the artist Giorgio de Chirico from Munich to Turin, then to Paris where he discovered the artistic avant-garde of his era, and lastly Ferrare. The connections between the painter - discovered by Apollinaire and subsequently backed by the art dealer Paul Guillaume - and the Parisian cultural and literary circles will be highlighted as never before.
Born in Greece and trained in the fount of classical culture and late German Romanticism, de Chirico developed the foundations of a new artistic exploration alongside his younger brother Alberto Savinio. A student at the Academy of Fine Arts in Munich as of 1908, he discovered the thinking of Nietzsche and Schopenhauer as well as the works of Böcklin and Klinger. After travelling to Milan then Florence, it was in France, and more specifically Paris, as of autumn 1911, that he established his unique visual vocabulary through contact with the modernist artistic revolutions. He was quickly noticed by numerous artistic celebrities of the time, among whom Guillaume Apollinaire, Maurice Raynal, André Salmon, André Breton, Paul Éluard and Jean Paulhan were the first to take an interest in and promote his work.
The exhibition thus comes into its own at the Musée de l'Orangerie alongside the figure of Paul Guillaume, the first art dealer to work with Giorgio de Chirico. On his return to Italy in 1915, he and his brother Savinio were sent to Ferrare for military reasons, where he continued his artistic research. This period (June 1915-December 1918) provided an opportunity for painters Carlo Carrà and Giorgio Morandi to get to know the two brothers, thus resulting in the creation of what was later to be known as the "metaphysical movement" which brings the exhibition to a close.