Dance Among the Water Lilies (Danse dans les Nymphéas) • Soa Ratsifandrihana, GR OO VE
Sous-titre

7 pm and 8.30 pm, Salle des Nymphéas

Music has been part of Soa Ratsifandrihana's life since her childhood. Soa Ratsifandrihana's imagination and desire to dance initially came from jazz, funk and disco music. After an academic career, she submitted  g r oo v e, her first solo born out of an irrepressible desire to create a piece to which it is imperative to "groove".
The choreographic solo g r oo ve unites intimate and popular images and dances. Amongst them is the Afindrafindrao, a 19th-century typically "gasy" dance from Soa Ratsifandrihana's native red island, Madagascar. She also sketches a few steps from Madison, the first choreography she learnt, popularised in the 1960s by the Afro-American singer Al Brown. She also includes a nod to Pepito, a body-popping dancer whose stylised quarter-turns she admires ... In short, g r oo v e comes in the form of a collage of quoted then transformed references. The choreographic challenge here is to skilfully assemble and articulate these, in order to maximise the energy that progresses throughout the piece. Between her search for spontaneity and her rigorous composition, Soa Ratsifandrihana dialogs with the sounds produced by two musicians with contrasting sensibilities: Sylvain Darrifourcq, whose electronic music is close to Glitch, passes the baton to Alban Murenzi from the hip-hop scene. For someone who started out performing for James Thierrée, Salia Sanou, Anne Teresa de Keersmaeker and Boris Charmatz, it's about sharing her own particular groove with the public.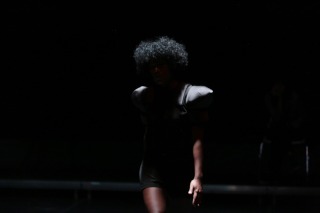 Design, choreography, performance: Soa Ratsifandrihana
Music production: Sylvain Darrifourcq, Alban Murenzi
Costume design: Coco Petitpierre, assisted by Anne Tesson
Lighting design: Marie-Christine Soma
Co-produced with the International Choreographic Meetings (Rencontres chorégraphiques internationales) at Seine-Saint-Denis, France.
Production and distribution AMA – Arts Management Agency, France Morin, Anna Six.
Acknowledgements: Producer Cécile Perrichon, intern Mylène Monjour.
Associate production: AMA Arts Management Agency - France Morin & Anna Six.
Joint production, Atelier 210, Charleroi danse, MARS – Mons Arts de la Scène, La Place de la Danse – CDCN Toulouse Occitania, workspacebrussels, T2G – Theatre de Gennevilliers, National Drama Centre, La Soufflerie – the state-aided theatre at Rezé.
With assistance from the Wallonia-Brussels Federation – dance department.
With support from the CNDC-Angers, Pointculture, Iles asbl, GC De Kriekelaar, Fabbrica Europa – PARC Performing Arts Research Centre, Kaaitheater, CND French National Dance Centre.
Performance produced on 12 October 2021 at Atelier 210 – Brussels (Belgium).
Doors open at 6.30 pm
Upcoming dates
April
Monday 17 April

7.00pm, 8.30pm

Salle des Nymphéas
Booking required for this event
Tarifs
Tarif jeunes et solidarité
€5
Time slot reduced rate
€8