La Jeune Anglaise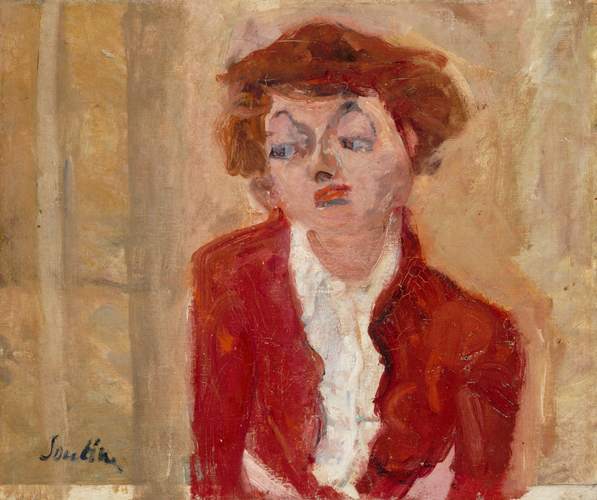 Chaïm Soutine (1893 - 1943)
Soutine produced several portraits of women in the 1920s, and this is a fine example. It is composed in a horizontal format that is quite unusual in the painter's work, who usually enclosed his models with a tight framing. Here Soutine leaves the space open on the left to where the young woman is gazing. She is pensive, looking elsewhere, taking no notice of the painter or the viewer. In spite of her twisted nose and crooked lips, the young English girl's face looks more harmonious than the majority of the painter's models.
In this portrait Soutine expresses the same fascination for red and white as he did in the Enfant de chœur [Choirboy], also in the Musée de l'Orangerie. The white blouse sparkles with a thousand different shades. The red jacket fits elegantly around her upper body and matches the young woman's red hair and lipstick. The ochre background is warmer, and makes the space less oppressive than in the majority of the artist's portraits. In fact, Soutine painted this model a second time in an identical outfit.
This painting was done on the back of canvas that revealed traces of a former work. Soutine did not actually like new canvases and sought out old paintings that he would then clean and repaint.