Bouquet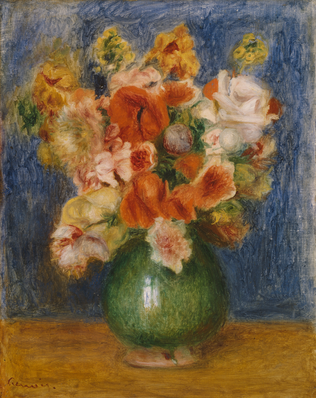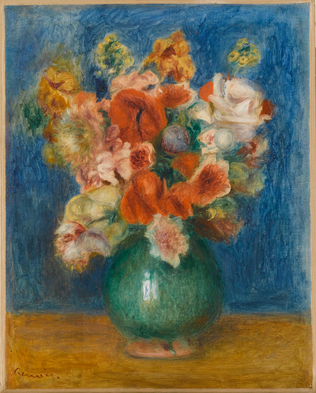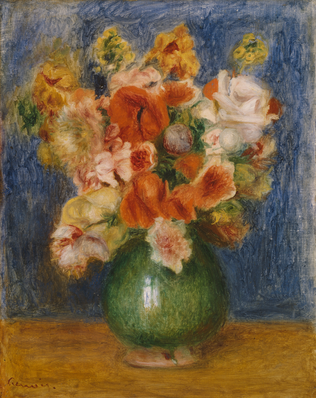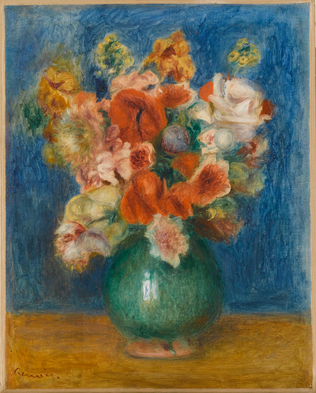 Auguste Renoir (1841 - 1919)
Artwork not currently exhibited in the museum
Like her husband, Renoir's wife Aline Charigot (1859-1915) was fond of bouquets and scattered them through their various homes. Ambroise Vollard (1866-1939), one of Renoir's art dealers, recalls in his Mémoires that "... it all becomes clear once you have seen Madame Renoir taking care of everything, up to making sure that the paintbrushes are properly cleaned and placed in the glazed clay pots, those pretty pots that she found on the stalls, arranging the flowers herself with that unfailing taste that prompted Renoir to say "When my wife has arranged a bouquet, all I have to do is paint it". ". This green pot can indeed be seen in this painting. Bursting from it is a bouquet in the shape of a star, made from poppies and roses intertwined with other flowers. Each species is a different colour and shape.
The colours are bold and the tones are warm. The green tone of the vase, echoed in the greenery, contrasts with the blue background. The red and yellow flowers are tempered by the very pale rose on the right, but bring out the brown of the piece of furniture on which the vase is stood.
A parallel can also be drawn between this work by Renoir and the still lifes painted by Edouard Manet (1832-1883) in the 1860s and 1870s.