Corps de texte
In the Musée de l'Orangerie, around the setting designed to diffuse the magic of the Water Lilies, how do you imagine the mental path from Claude Monet to your Matrices?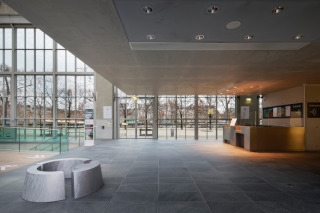 It is a wonderfully logical path! For his Water Lilies, Monet wanted an experience of total immersion in the painting. He therefore designed these oval rooms to present his paintings as a continuum. With my Matrices/Seating, hollow body-sized molds of letters, I offer an equally physical immersion in the space of language. Although they are one century apart, these two installations respond to each other. And what's more, Cécile Debray, the director of the Orangerie, who approached me, described my Matrices as the "Water Lilies of language"!
The history of art is often present in your work. Is it not simpler to claim to start from scratch?
I don't think we ever really start from scratch, especially as an artist. Personally, I enter into a dialogue with artists of the past as if they were present: what dates a work is the moment when it is seen, rather than the era when it was produced. This is how I reinterpreted Manet's Olympia, by weaving into the iconic image all the synonyms for the word "woman," drawn from the French language of the 12th to the 20th century. In this way I examine both the status of masterpieces of art as they have developed over time, and language, in permanent change.
The authors who inspire you are included into your works. Is this a way of responding to texts through paintings and forms?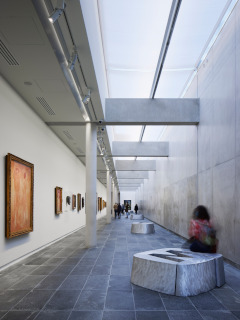 For me, books are a physical landscape that I walk through and where I source ideas, words. Even in my studio in Ivry-sur-Seine, I like to move from the horizontal space of the page to the vertical space of the work wall. They act as communicating vessels. In the Matrices you find this idea of strolling through language, and in the Chromatic Matrices, the relationship with the chroma of the Water Lilies.
It is difficult to classify you within the compartmentalized categories of contemporary art. How have you managed to avoid this formatting?
I worked alone for much of my career, following my inspiration and observing the artists I liked and who often worked completely independently in relation to the trends of their time. To come back to Monet, he invented abstraction with his series of Cathedrals, without necessarily opposing figurative painting. Far from claiming to be avant-garde, he made this dichotomy already obsolete at the time. His only imperative was to get as near as possible to his vision, to represent what he had in mind in the best possible way. For the Water Lilies, he built ponds in order to paint them, before reproducing his vision in circular rooms — what freedom! And for us, the visitors, how liberating to be freed from pictorial conventions! As a result, I admit that I don't worry too much about the notion of contemporary art.
Visitors will be invited to sit on your works. What does a work of art lose when it looks like furniture or a design and... what does it gain?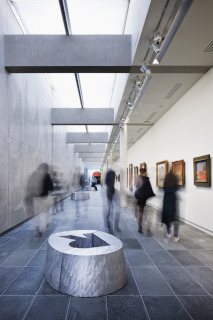 Indeed, my Matrices/Seating ask to be used, they can offer a welcome in a physical sense. This was deliberate, because language, in my opinion, has nothing abstract about it. It embodies reality. When facing the masterpieces in the Orangerie, the Matrices/Seating are designed to reactivate our ability to read them, that is to evaluate what is special about them and to experience their power. In addition, the fact that my sculptures look like furniture and are made in series enables them to reach a much wider public.
A woman yourself, you are investing an institution directed by a woman, thanks to the support of a woman patron. Is your arrival at the Orangerie also that of a feminist?
I have been a feminist since the day I asked my primary school teacher why there were so few women artists in museums, and she didn't understand my question! The years have passed, but the statement still stands, and yes, it is as a feminist woman that I enter the Orangerie to install my artist's work. It turns out that this invitation was due to the remarkable vision of Cécile Debray, director of the Musée de l'Orangerie, and to the long-term support of Sophie Javary, who persuaded her husband Alain to be involved. This female complicity adds to the beauty of the undertaking! In this respect, I hope that other women artists will find their place in prestigious locations.
Interview recorded by l'Agence Communic'Art