Corps de texte
Introduction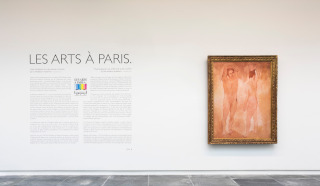 "Before his great enthusiasm for Negro art, Paul Guillaume put together a collection of fetishes while taking an interest in artists who were not yet well known, like Modigliani and Soutine. I am not talking about his private collection, in which one could admire the most revealing paintings by Matisse, Derain, Henri Rousseau and Picasso. Passing away prematurely, he came and went like a meteor." That was how art dealer Ambroise Vollard described Paul Guillaume (1891–1934), a young art dealer who Guillaume Apollinaire (1880–1918) trained and advised.
The poet, who spotted this young lover of 'primitive art' as early as 1911, introduced him to avant-garde art circles and guided him in his choices when he opened his first gallery in 1914. Driven by an artistic environment that was paradoxically dynamic during the First World War, Paul Guillaume brilliantly gave the poet's tastes concrete form. The two towering figures of French modern art – Matisse and Picasso, whose works he exhibited in a 1918 artistic dialogue that stayed famous – formed the heart of a modern Paris school.
From there, two trends began. First, there were isolated figures like Utrillo, Modigliani and Soutine, who put forward the idea of "modern primitivism", embodied by Henri Rousseau and by African and Oceanian art. Second, the works of André Derain, Marie Laurencin, Pablo Picasso and Henri Matisse in the 1920s revived figurative art. They explored the rediscovered late works of the impressionist masters: Cézanne, Monet and Renoir.
The collection in the Musée de l'Orangerie therefore reflects a precise moment in modern art in Paris, that of the periodical Les Arts à Paris, which Paul Guillaume founded in 1918, and of the 'modernist representations' in his gallery, with recitals from composers Eric Satie, Georges Auric and Claude Debussy, readings of Blaise Cendrars and Guillaume Apollinaire, and presentations of metaphysical paintings by Giorgio de Chirico. Up to his death in 1934, Paul Guillaume never stopped evoking the tutelary influence of the poet, who passed away prematurely, in his collection project and his plans for the first museum of modern art: "His clear-sighted passion and crusading spirit expressed as lyrical beauty, combining a profound science and graceful charm, made him one of the most brilliant promoters of emerging works."
Pierre-Auguste Renoir (1841-1919)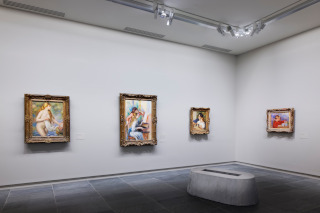 In 1921, Paul Guillaume urged the younger generation of painters to look towards the masters of Impressionism: "They must think of their elders; let them remember Manet, Cézanne, and Renoir!" With this in mind, and following in the footsteps of Apollinaire who declared that Renoir was "the greatest painter of our day," Paul Guillaume began to build up his collection by buying paintings by this artist. Since his gallery was thriving in the 1920s, he was able to afford paintings by the Impressionists which had previously been too expensive for him. He added several masterpieces to his collection in the 1890s, such as Young Girls at the Piano, and paintings in Renoir's later baroque style, which fascinated a number of artists such as Derain and Pierre Bonnard. In his apartments, Renoir's paintings were displayed alongside modern works and African effigies. As was the case with other major modern collectors – Leo and Gertrude Stein, Albert Barnes, and Louise and Walter Arensberg – Renoir featured among figures from the avant-garde. After his death, Paul Guillaume's widow added to the Renoir group by selling radical and iconic works from his collection, notably Cubist compositions by Picasso and metaphysical paintings by de Chirico.
Paul Cézanne (1839-1906)
After his death in 1906, Cézanne was hailed as the leading light of modern painting. For artists of his generation, he became, in a phrase attributed to both Picasso and Matisse, "the father of us all". Held in high esteem by the Cubist painters and praised by Apollinaire, Cézanne's rigorous and geometric art embodied the balance between form and volume. During the interwar years, aficionados of the "French tradition," who included Paul Guillaume among their number, believed that any genealogy of modern art must cite Cézanne as it founder. Not all of the paintings at the Musée de l'Orangerie were acquired by Paul Guillaume. Although he bought the two portraits of Madame Cézanne from Ambroise Vollard, the artist's long-term dealer, most of the paintings by Cézanne were acquired in the 1950s by Paul Guillaume's widow Domenica. Her tastes were more conventional and bourgeois than those of her husband, yet she bought some of the boldest works executed by the "Master of Aix," such as The Red Rock, a masterpiece created when the artist was at the height of his powers.
Henri Matisse (1869-1954)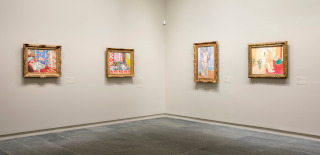 "If I had to compare the work of Matisse to anything, it would have to be an orange. Like an orange, the work of Henri Matisse is a fruit bursting with light." Apollinaire, preface to the Matisse-Picasso exhibition, 1918, Paul Guillaume gallery
In 1918, Paul Guillaume organized a Matisse-Picasso exhibition, setting the two champions of modern art head to head. He was keen to put together a reference collection of modern art and acquired key radical works such as Bathers by a River and The Three Sisters, as well as many paintings from the 1920s. Matisse, who had been living in Nice since 1917, visited Renoir and took his advice to heart. In 1919 he stated: "I worked as an Impressionist, directly from nature, and then tried to achieve concentration and a more intense expression in both lines and colors." In his daily encounters with his models for over a decade, Matisse returned to the theme of the odalisque as a pretext for integrating a shapely and shaded body into an ornamental decor which emphasized the flatness of the painting.
Marie Laurencin (1883-1956)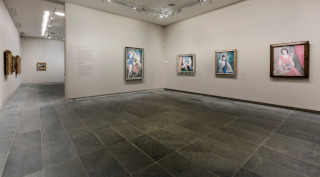 "She is joyous, she is good, she is witty and she has so much talent. She is a feminine version of me," said Guillaume Apollinaire in 1912, of his lover Marie Laurencin. Influenced initially by the sinuous lines of Matisse and the ingenuous style of le Douanier Rousseau, she embarked on the Cubist venture alongside Picasso and the poet. In the 1920s, when Paul Guillaume became her dealer, her paintings depicted idealized images of the women of her day – sophisticated, modern and liberated. Apollinaire had predicted this: "her female faces will characterize the style of her era and people will speak of 'a Marie Laurencin woman'." Over the course of time, the painter forged a deep friendship with Paul Guillaume and his wife Domenica and achieved notable success in the interwar period. She designed scenery for the Ballets Russes, developed her own unique world imbued with a taste for metamorphosis, illustrated books by her writer and poet friends, and carved out a place for herself in Paris society as a portraitist of the most sought-after women.
André Derain (1880-1954)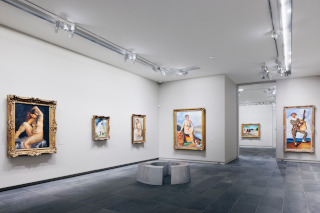 "Derain's art is imbued with an expressive grandeur which could be described as bearing the mark of antiquity. It comes to him from the great masters and also the old French schools [...], but factitious archaism is wholly absent from his work." Apollinaire showed an unparalleled understanding of Derain's work in his 1916 preface to the catalogue for the first exhibition devoted to the painter organized by Paul Guillaume. After the war, Derain's painting took a completely new turn. He distanced himself from the radicalism of Fauvism, which he had been instrumental in initiating in 1905 with Maurice de Vlaminck, Albert Marquet, and Henri Matisse. The artist toned down his palette and looked towards the old masters. This was not a "return to order," but a reconnection with a form of classicism, leaning towards a refined and learned painting influenced by Camille Corot (1796-1875), Gustave Courbet (1819-1877), and Renoir. Derain is the best represented artist in the Musée de l'Orangerie collection with 28 works in total. They all either belonged to Paul Guillaume or passed through his gallery. In 1922, he signed an exclusive purchase contract with the artist, which continued until the dealer's untimely demise in 1934. Deeply affected by his death, Derain withdrew to Chambourcy and cut his ties with the Paris art scene.
Henri Rousseau (1844-1910)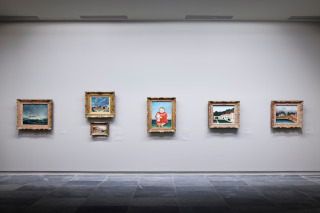 Apollinaire, Robert Delaunay, Pablo Picasso and his friends at the Bateau-Lavoir studio in Montmartre considered Henri Rousseau to be one of the founding fathers of modernity. Guillaume Apollinaire lavished friendly advice on his protégé, Paul Guillaume, but specifically urged him on several occasions to develop an appreciation of the naive and stylized work of le Douanier Rousseau. Guillaume purchased works for his own collection and for sale, and successfully acquired some of Rousseau's most famous paintings. Almost fifty paintings passed through his hands. Rousseau's job in the Paris excise service earned him the nickname Le Douanier (customs officer) and he drew inspiration for his compositions from his walks, and in particular from photographs clipped out of newspapers and arranged in a highly personal way which was precisely detailed, but very free in its approach to pictorial conventions. He combined these sources with the lessons he learned from the masters whom he studied and copied, notably at the Louvre.
Les Arts extra-occidentaux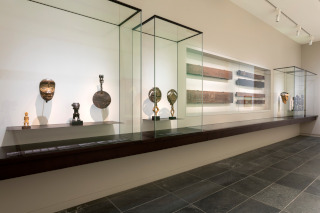 "The Louvre should house certain exotic masterpieces whose appearance is as moving as the finest specimens of western statuary." Apollinaire, 1909
Apollinaire and Paul Guillaume worked together successfully to raise the profile of art from Africa and Oceania and to achieve lasting recognition of its cultural significance and beauty. In 1910, Guillaume, employee at a garage which received consignments of rubber, displayed some sculptures from Gabon in the window which attracted the attention of Apollinaire, who introduced him to the antique dealer Joseph Brummer and to Picasso. Guided by his mentor, Paul Guillaume developed his contacts with colonial agents and organized memorable parties and exhibitions in which works by young painters were shown in counterpoint to African sculptures. In his articles, he praised the merits of these statues and masks, running against the grain of prevailing public opinion which was steeped in racism. As a pioneer of the African art market, he supplied work and acted as an advisor to Alfred Stieglitz, who opened the first exhibition of African Savage Art at his gallery 291 in New York in December 1914. Paul Guillaume lent his support to the first Dada exhibition at the Corray gallery in Zurich and sourced works for the foundation set up by the American collector Albert C. Barnes. With Apollinaire, he published the first lavishly illustrated Album of Negro Sculptures in France in 1917. He organized the first exhibition devoted exclusively to Negro and Oceanian art at the Devambez gallery and the major "Fête Nègre" in 1919, which was an international sensation and blazed the trail for the craze for Black culture in the 1920s.
Maurice Utrillo (1883-1955)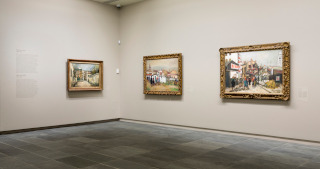 "Take Utrillo back on," wrote Apollinaire to Paul Guillaume in September 1915. The dealer, who had been familiar with Utrillo's painting since 1910 through the poet Max Jacob, very quickly followed his mentor's advice and showed him again at his gallery. Paris-born Maurice Utrillo was the son of artist, painter and model Suzanne Valadon and the Catalan painter Miguel Utrillo. The district of Montmartre in which he lived provided him with subjects for hundreds of paintings. Often resorting to postcards, he painted the church at Clignancourt and the rue du Mont Cenis, and enlivened his austere architecture with little figures. His career peaked in the years 1910-1912 to 1914, with his "white period" characterized by white impasto applied with a palette knife and sometimes mixed with the plaster produced on the Butte Montmartre at the time, which he combined with subtle shades of grey paint. In 1922, Paul Guillaume devoted a monographic exhibition to him, presenting a group of 35 paintings. This event marked the beginning of the artist's popularity as he made the transition to more colorful paintings. The Musée de l'Orangerie has one of the finest collections of paintings by Utrillo in Europe.
Chaïm Soutine (1893-1943)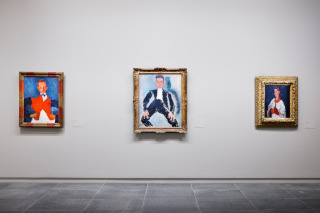 Born in Smilavitchy (Russian Empire), Chaïm Soutine moved to Paris in 1913, where he forged friendships with artists living in Montparnasse, including the painters Marc Chagall, Amedeo Modigliani and the sculptors Jacques Lipchitz and Ossip Zadkine. After spending three years in the south of France, he returned to Paris in 1922 and met Paul Guillaume. This meeting made Soutine's name on both sides of the Atlantic; Guillaume introduced the artist to Alfred Barnes, an art enthusiast eager for new work, who was planning to set up a foundation in Philadelphia and open it to visitors. The Musée de l'Orangerie boasts twenty-two paintings by the artist and, along with the Barnes Foundation, has the largest collection of works by Soutine in the world. This very balanced corpus reflects the artist's habit of working by theme in series. Soutine subjected portraits, still lifes and landscapes alike to violent distortions, combining Expressionist brushwork with melancholy lyricism. Yet beneath the formal impetuousness of his paintings lies a classical solidity which is evident in their composition. Soutine was steeped in older traditions of painting which he had studied tirelessly at the Louvre, and referenced them continuously.